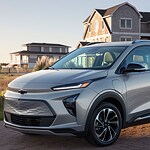 When it comes to technology, the Chevrolet Bolt EUV includes features to help the driver and tools to provide maximum safety. The Bolt's system also lets you stay effortlessly connected.
At Porter Chevrolet, we know that one of the biggest questions surrounding electric vehicles is the range. The Bolt EUV answers that question with the driver's information center. It displays the battery range and highlights driver efficiency. The safety technology begins with a rear camera and pedestrian-detection sensors coupled with emergency braking. The lane-assist function will help keep you safely on the road. Owners can opt for a hands-free driving package also.
You can monitor your Chevrolet Bolt EUV with an app. You can get battery alerts and maps to the charging stations. There is a wireless charging platform on the center console, and Apple and Android users can quickly connect to the vehicle's systems.