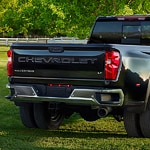 The 2022 Silverado 2500HD is the three-quarter-ton version of Chevrolet's flagship pickup truck. The HD stands for heavy duty, as this truck was designed for serious work. At Porter Chevrolet, we are quite impressed with this truck's capability features. Here's a brief look at some of our favorites.
One of the most important capabilities for a truck to have is a high towing capacity. The Silverado 2500HD doesn't disappoint in this category. With the right setup, it can tow up to 18,510 pounds. This truck can also haul a heavy load of up to 4,636 pounds in its cargo bed.
The Silverado 2500HD is available with a powerful V8 turbo-diesel engine. A truck equipped with this powertrain can produce up to 910 pound-feet of torque and 445 horsepower. This makes the 2022 Silverado 2500HD one of the most powerful and capable versions of this truck that Chevrolet has ever produced.